Right, now it's time to challenge the practical skills portion. Here's to starting your new, happy life of diving!
Once you've downloaded the practical skills training orientation manual, please find the most suitable member dive shop under the link on this site.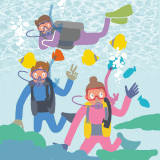 If you decide to proceed with the download, please first read and confirm your acceptance of the conditions of use.